RABIES VACCINE
Required every 1-3 years. Rabies vaccination is required by law. Vaccination is the best prevention for this untreatable disease which is also a risk to your family.  Learn more about Rabies.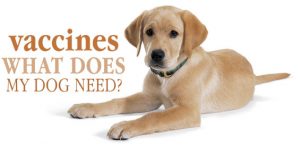 FOR DOGS
DA2PP VACCINE
Recommended every 1-3 years. Distemper causes fatal pneumonia and neurologic disease. Hepatitis virus causes fatal liver disease. Parainfluenza is a flu-like virus. Parvovirus causes a potentially fatal gastrointestinal disease.  Learn more about Distemper.
BORDETELLA VACCINE
Recommended every 6 months. A bacterial infection of the upper respiratory system that can lead to chronic bronchitis or pneumonia. All dogs using a kennel, groomer or that may require hospitalization are required to have this vaccine.  Learn more about Bordetella.
LYME DISEASE VACCINE
Recommended yearly. Lyme disease is a potentially fatal infection that also causes a lifelong arthritis or heart disease. It is transmitted by ticks. Pets with this disease can be a risk to humans when a tick moves from the pet to the human.  Learn more about Lyme Disease.
LEPTOSPIROSIS VACCINE
Recommend yearly.  For canines that are exposed to still standing water or in areas with a lot of wildlife and come in contact with infected urine, urine-contaminated soil, water, food or bedding; through a bite from an infected animal.  Lepto is zoonotic, meaning humans can pick up the bacteria from contact with the urine of an infected dog.  Learn more about Leptospirosis.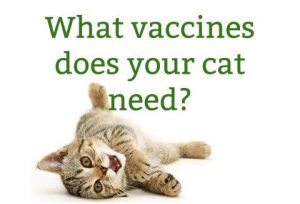 FOR CATS
FVRCP VACCINE
Recommended every 1-3 years. Feline Viral Rhinotracheitis virus is a herpes virus that causes sneezing, runny nose and eyes. It can cause permanent damage to the nasal sinuses and ulcers in the eyes. Calicivirus causes the same signs as Rhinovirus but usually affects the eyes and lungs. It can also cause ulcers in the mouth. Panleukopenia is a virus that causes the disease known as distemper in cats. It often leads to death.  Learn more about Feline Viral Rhinotracheitis virus.
FELINE LEUKEMIA VACCINE
Recommended yearly for at-risk cats. This virus attacks the immune system. Diseases caused by the feline leukemia virus include: several types of cancer, bone marrow suppression, inflammation of the eyes and neurological disorders. Other diseases associated with the virus include bone, kidney and skin disorders. Other secondary infections often occur.  Learn more about feline leukemia virus.
FeLV/FIV TESTING
Recommended yearly for at risk cats. Cats that go outdoors or cats exposed to other cats of unknown status (such as in boarding kennels or grooming shops) should be tested yearly, especially if more than one cat lives in the home.